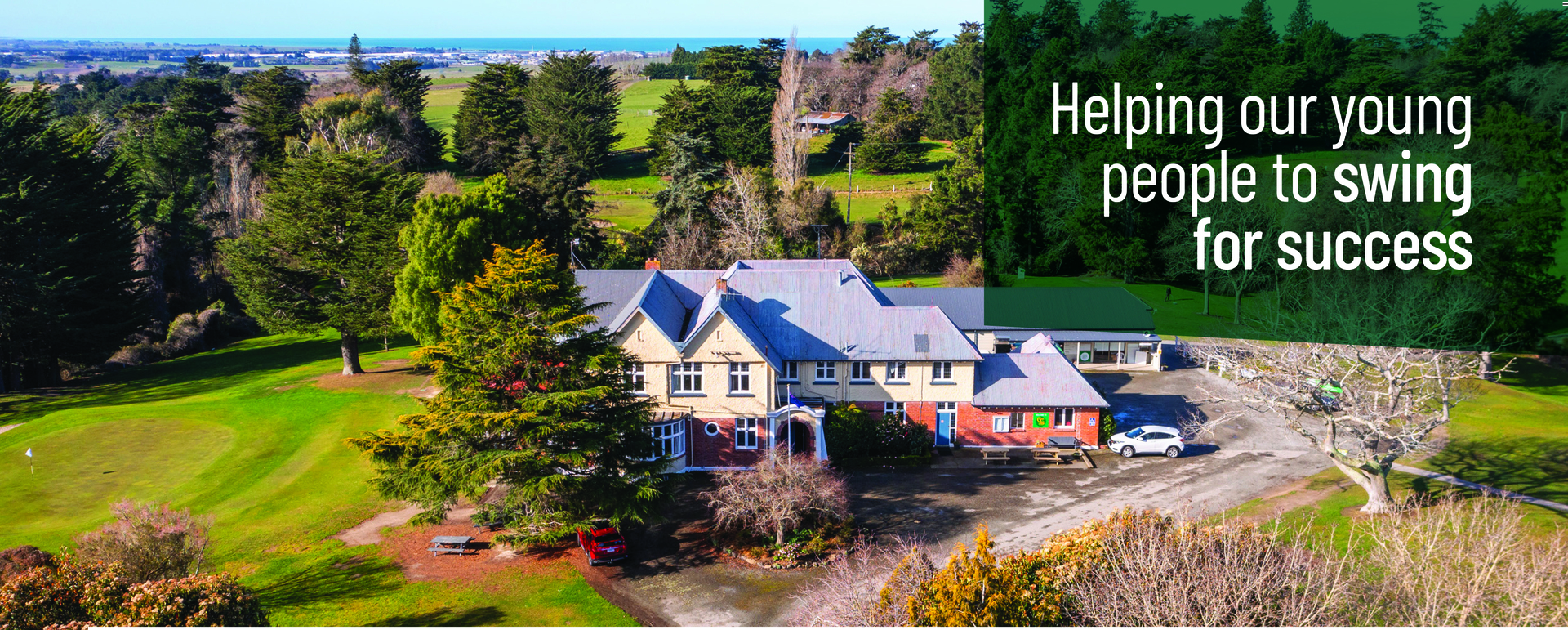 Golf is one of the most challenging and rewarding sports to play. It requires physical strength and
mental fortitude to be successful. It is hugely rewarding in both individual and team formats, and
can offer students a wide range of career opportunities, both and off the course.
New Zealand has more Golf courses per head of population than any other country in the world, and South Canterbury
certainly has its fair share of them. Timaru and the surrounding areas are home to 7 Golf courses and Mountainview High
School, situated in the north of Timaru, is within 1.5km of two of these courses (Gleniti Golf Course and Highfield Golf Course).
Playing in South Canterbury
Gleniti Golf Course is an 18 hole parklands style course measuring approximately 5,900 metres. It contains a number of tight fairways
and challenging greens complete with sandtraps and water hazards to challenge golfers of all abilities. For Championship sized
golf courses Timaru Golf Course, measuring closer to 6,100 metres, provides students with an 18 hole golfing experience more closely
resembling links golf. Together, these courses cater for every type of golfer.
Our association with Gleniti Golf Course means that our students have access to a year round full playing membership at the course,
and weekly individual and/or group coaching lessons with a Certified PGA Professional Instructor, Peter Hayes. Students will
also have access to a fully covered driving range at the course, as well as a maintained chipping and putting area.
Although the weather is mild in South Canterbury, and the courses remain quite dry, sometimes it is impossible to get out
and play. For this reason, Mountainview High School has an indoor Golf Simulator bay complete with over 300 courses,
a virtual driving range, and skills area. Our simulator provides students with all of the metrics needed to improve their
game, including face impact location and lie angle. Access to this simulator is free to students throughout the school
day and in the evenings and weekends.
Playing Handicap and Competitions
Students will be given the opportunity to register a handicap, using the World Handicap System, which will give them access to
local and national school and age group events. Our students also compete in several inter-school, team and individual, competitions
locally throughout the Terms 1 and 4.
Golfing Adventures
Coming to New Zealand would not be complete without seeing some of our more famous courses, and the South Island is home
to two of the most recent New Zealand Open venues, Millbrook and Clearwater. As a Student Golfer you will be able to go on two
yearly trips in Term 1 and Term 3. The costs for these trips is outlined below. In Term 1 we will travel to Queenstown to play at Millbrook
Golf Course and the newly created Jack's Point Golf Course, while in Term 3, we will travel to Christchurch to play at Clearwater as well as
two other local high quality Christchurch courses. All costs for these trips are included in your Golf Package Costs.
Other costs
We do not carry a range of equipment, so students will need to bring their own clubs and accessories. We can provide access to
professional club and ball fittings if required. Other items such as Gloves, Clothing (outside of school representative competitions),
tees etc… can be purchased from the Pro Shop at Gleniti Golf Course.
Golfing additional costs NZ $
Course Memberships: $350pa**
Coaching Individual: $50 per 30 minute lesson
(up to 40 weeks per year) up to $2000pa
Group coaching (6 per group maximum): $15 per 30 minute lesson
(up to 20 weeks per year) up to $300pa
Range balls: $170 per 1000 balls
(available from Gleniti Golf Course)

**Compulsory fee to play golf at a course in South Canterbury.
Golf adventures NZ $
Queenstown: $1100 per year
Christchurch: $800 per year